Hate motivated incidents in Ottawa sees 23.5% increase in 2023
FOR IMMEDIATE RELEASE: Friday, July 7, 2023 9:00 am
(Ottawa) – The Ottawa Police Service (OPS) has seen a significant rise in the number of reported hate and bias motivated incidents, with a 23.5 percent increase from 2022 year to date.
"As a police service we have zero tolerance for any type of hate-motivated incident," said Chief Eric Stubbs. "We want the community to know that we take every report seriously and we will fully investigate each incident. Hateful rhetoric, crimes, and incidents are unacceptable. These incidents threaten the peace and security of our families, our friends, our neighbours, and visitors to our city."
In a recent incident, a person from the 2SLGBTQQIA+ community was specifically targeted in a robbery.
"I met with representatives from the Pride communities and had an open discussion about their concerns," said Chief Stubbs. "As a police service, we fully support the 2SLGBTQQIA+ communities and we are working with them to ensure that people who attend public events feel safe doing so. We continue to work towards a strong relationship with the 2SLGBTQQIA+ communities to further build trust."
Of the 221 reported hate-motivated incidents to date in 2023, 158 have been deemed criminal and 63 have been determined to be hate-motivated but non-criminal. Twenty-three people have been charged with 56 counts of hate-motivated offences, with one (1) formal charge of public incitement of hatred.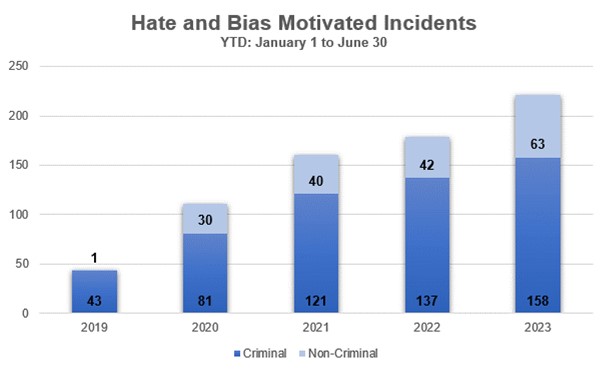 In recent months, Ottawa has seen an increase in hate-motivated incidents that range from robbery to threats, to assault and harassment. In the past few years, these numbers have been steadily increasing, with 340 reports filed in 2021, and 377 submitted in 2022.
Nationally, Canada is also seeing an increase in the number of reported incidents, with a 27 percent rise in reporting in 2021 alone. Compared with 2019 national data, that represents a 72 percent increase in reported hate crimes.
Locally, these crimes include:
62 incidents of mischief to property
25 threats uttered to a person
19 level one assaults
15 incidents of criminal stalking or harassment
6 incidents of mischief to a cultural property
Groups predominantly affected per the YTD 2023 data include:
2SLGBTQQIA+ – 32 incidents
Jewish – 36 incidents
Muslim – 7 incidents
Black – 30 incidents
Chinese – 8 incidents
The OPS Hate and Bias Crime Unit is actively working with the Crown Attorney's office to fully investigate all reported incidents.
The increase in hate-motivated incidents has a lasting impact not only on those who have been targeted, but throughout the neighbourhoods and communities where they occur.
"The statistics are sobering because we know that they only tell part of the story," said Chief Stubbs. "So often these types of incidents go unreported and we know that this data only provides a glimpse of what people are experiencing out in the community."
The OPS has been working with the impacted communities to help address their safety concerns, which includes meeting with Pride organizers to set up a plan to ensure the safety of all participants in advance of Pride celebrations in August; and outreach to impacted community groups and schools to help them understand the sometimes complicated process involved with prosecuting hate crimes and how to report such incidents.
In 2017, the OPS became the first police service to provide residents with the ability to file a hate-motivated incident report online.
If you have been a victim of a hate-motivated incident you can file a report online or call us at 613-236-1222, extension 7300. If you are in immediate danger, please dial 911 right away.
- 30 -
CONTACT:
Media Relations Section
Tel: 613-236-1222, ext. 5366
@OttawaPolice
facebook.com/OttawaPoliceService